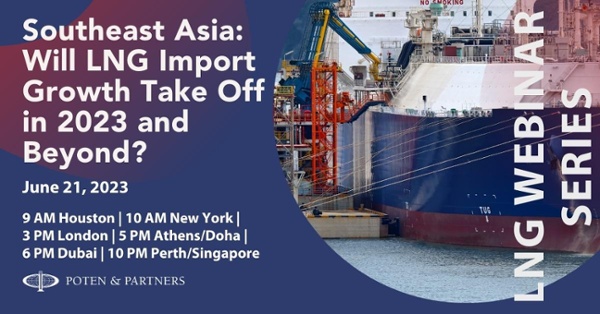 On Deand Webinar: Southeast Asia: Will LNG Import Growth Take Off in 2023 and Beyond? | June 21
Falling prices since the start of the year have pushed Southeast Asia's Vietnam and the Philippines to make their first LNG cargo purchases, but the road to meaningful imports remains bumpy. Both countries need LNG to offset falling domestic gas output and meet projected gas demand growth – and are eager to lock in supply at low prices. But the region – long touted as a driver of global LNG demand growth– has yet to live up to its full potential amid external factors such as high prices caused by the Russia-Ukraine war and competition from cheaper alternative fuels and renewables.
Join Poten's LNG webinar series as Asia-Pacific senior LNG analyst, Irwin Yeo explores Southeast Asian LNG market dynamics and potential.
Topics we'll address include:
• Regional overview: Southeast Asia LNG demand projections, import terminal infrastructure updates, LNG SPAs
• Market potential: Southeast Asian imports, opportunities for small-scale reloads/break-bulk, storage plays, LNG bunkering and other services
• External headwinds and tailwinds: Opportunities and challenges from beyond Southeast Asian shores
• Country-specific analysis:
Malaysia and Indonesia – Net exporters with no urgent need for imports at current prices. When will this change?
Singapore – LNG hub status to facilitate reloads, bunkering and other ancillary services
Myanmar – Domestic woes derail LNG import plans
Vietnam – Kickstarting imports, though challenges remain
Philippines – Pushing for LNG imports as domestic gas supplies dwindle
Thailand – Market liberalization to lift LNG demand
Wednesday, June 21, 2023
9 AM Houston | 10 AM New York | 3 PM London | 5 PM Athens/Doha | 6 PM Dubai | 10 PM Perth/Singapore
Presented by:
Irwin Yeo,
Senior LNG Analyst,
Poten & Partners