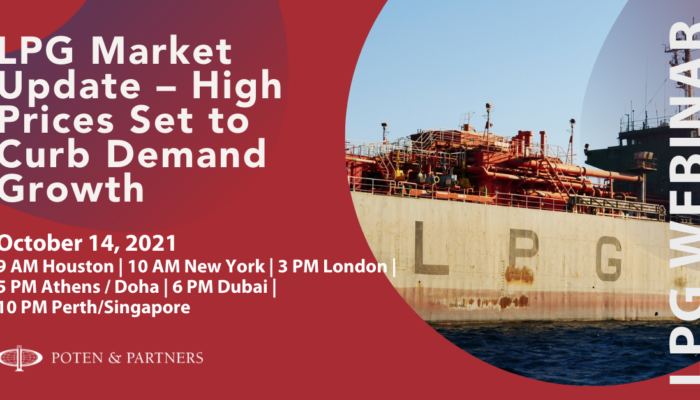 On-Demand Webinar: LPG Market Update – High Prices Set to Curb Demand Growth | October 14
LPG prices are already at multi-year highs. Expectations are that prices could go even higher if colder-than-normal weather boosts heating demand. With limited supply growth and low US inventories, arbitrage opportunities for US exports are thin, which could lead to lower US exports in the winter and affect demand in Europe and Asia. Exports from the Middle East are recovering but not fast enough to ease the supply tightness this winter.
Join Poten & Partners' LPG analysts for a short-term market update webinar on October 14.
Topics to be addressed include: • Exports for the Middle East and the US • Winter demand expectations in Asia • Winter arbitrage and pricing expectations
October 14, 2021
9 AM Houston | 10 AM New York | 3 PM London | 5 PM Athens / Doha | 6 PM Dubai | 10 PM Perth/Singapore
STREAM HERE!
Presented by: Zahid Afzal, 
Senior LPG Analyst
Jon McDonald, 
LPG Analyst