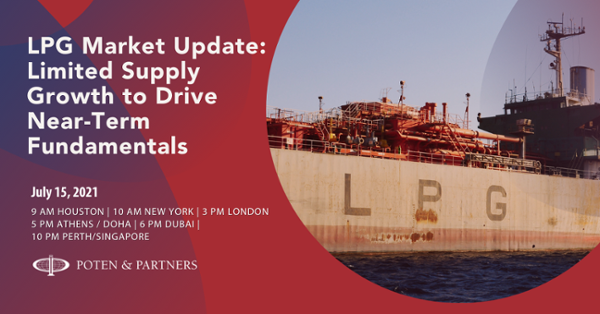 On-Demand Webinar: LPG Market Update: Limited Supply Growth to Drive Near-Term Fundamentals | July 15
US exports have been robust since Q4 2020 driven by healthy demand in Asia. However, production from the US has been stagnant which led to sharply lower inventory levels and higher prices in Q2 2021. Additionally, Middle East LPG production and exports are anticipated to rise due to improving oil prices.
Stream now Poten's LPG webinar as we explore how LPG production and exports from these key regions will trend in the second half of 2021 through 2023.
Topics to be addressed include: • How will LPG markets evolve in the second half of 2021 and out to 2023? • US LPG exports up nearly 10% in the first half of 2021 from last year; will production support a similar trend in the second half? • Outlook for Middle East exports in an improved oil price environment • LPG demand outlook in key markets for rest of the year • Tune in to get an overview of key LPG supply/demand trends out to 2023
July 15, 2021
3 PM London | 5 PM Doha / Athens | 6 PM Dubai | 10 PM Singapore / Perth | 11 PM Tokyo | 9 AM Houston | 10 AM New York
Presented by:
Zahid Afzal, 
Senior LPG Analyst
Jon McDonald, 
LPG Analyst
STREAM NOW!