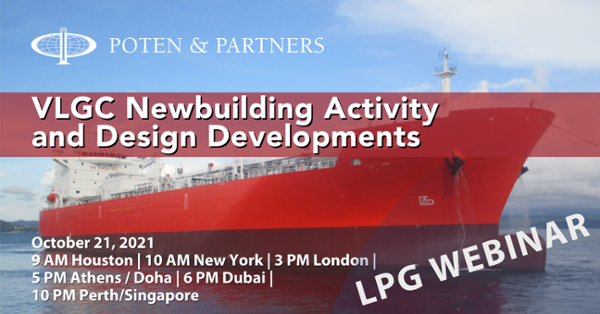 On-Demand Webinar: VLGC Newbuilding Activity and Design Developments | October 21
There has been a rush for VLGC newbuilding activity in the current year with new orders for a total of 50 VLGCs compared to 12 during the calendar year 2020. All new orders placed so far this year and during the previous year have been for dual fuel VLGCs. The average size of the new orders has also increased. This has led to a significant rise in newbuilding prices. Join Poten LPG Consultant Shantanu Bhushan, Peter Stebbing, LPG Desk head in London and Andrew Bright, Senior Consultant for Marine Shipping Projects on October 21 as we discuss recent changes in VLGC designs and the factors that necessitated these changes. The discussion will also explore the commercial implications of these changes.
STREAM NOW!
Topics to be addressed include:
• Recent developments in VLGC newbuilding activity, newbuilding prices and time charter rates • Recent development in VLGC designs – factors that necessitated changes and commercial implications • LPG and ammonia as marine fuels • Ammonia capable VLGCs – what does it mean
October 21, 2021 9 AM Houston | 10 AM New York | 3 PM London | 5 PM Athens / Doha | 6 PM Dubai | 10 PM Perth/Singapore Presented by: Shantanu Bhushan, LPG Consultant Peter Stebbing, London LPG Desk Head Andrew Bright, Senior Consultant Marine Shipping Projects
STREAM NOW!