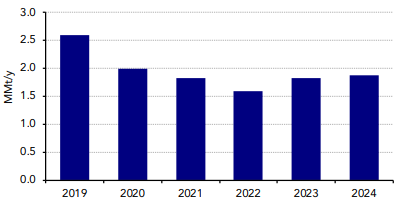 LPG Production in Indonesia to Rise
This current feature was extracted from the latest edition of Poten's LPG Market Outlook, a monthly service published on January 13th, 2023.
Declining production in Indonesia since 2019 has corresponded with a simultaneous rise in imports over the same time frame. As natural gas reserves have depleted, Indonesia has been forced to go into international markets to meet domestic LPG demand.
LPG production declined by 40% from 2019 to 2022 to 1.6 MMt, but the declines are forecast to reverse in the near term.
To read the full article, click here.