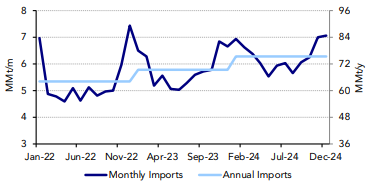 China to Remain Out of Spot Market in 2023
This current feature was extracted from the latest edition of Poten's LNG Market Outlook, a monthly service published on January 26, 2023.
LNG imports from China rose to their highest level in 2022 to 7.5 MMt in December. Nevertheless, imports declined by 20% in 2022 to 64.4 MMt compared to the levels seen in 2021. Covid-19 restrictions, higher domestic natural gas output and the substitution of other various means of covering energy demand led to a decline in LNG imports.
Sentiment towards LNG demand has improved since Covid-19 restrictions have been lifted and LNG prices have dropped due to present ample supplies in Europe. However, China continues to re-sell cargoes from new contracts that started in 2022 and from contracts that start in early 2023. This evidences a weaker market than indicated by the re-opening of the economy and higher imports in December 2022. Imports are forecast to see moderate growth in 2022 to 69.6 MMt and forecast to reach 75.7 MMt by 2024.
To read the full article, click here.