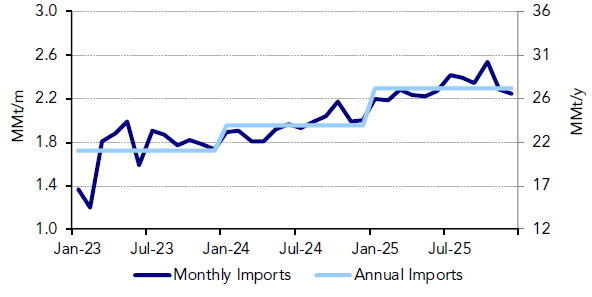 LNG and Coal Imports Rising in India
This current feature was extracted from the latest edition of Poten's 
LNG Market Outlook
, a monthly service published on 
July 26, 2023.
Rising temperatures played a major role in higher LNG imports in 2Q 2023 for India, but the monsoon season has set in, and temperatures have cooled off. However, low prices and the initiation of commissioning for the new Dhamra LNG import terminal are both factors that are forecast to keep India active in the LNG spot market in the near term.
LNG imports were off to a slow start to begin the year, averaging 1.3 MMt in January and February, but quickly rose to 1.8 MMt in March on lower prices and to prepare for extremely high temperatures forecast in 2Q. In 2Q, LNG imports rose to an average of 1.8 MMt/m and are on pace to reach 1.9 MMt in July.
LNG imports are forecast to increase by 8% in 2023 to 20.7 MMt, and then increase by another 13% in 2024 to 23.4 MMt, then an additional 18% in 2025 to 27.6 MMt as rising gas demand drives LNG imports higher.
To read the full article, click here.