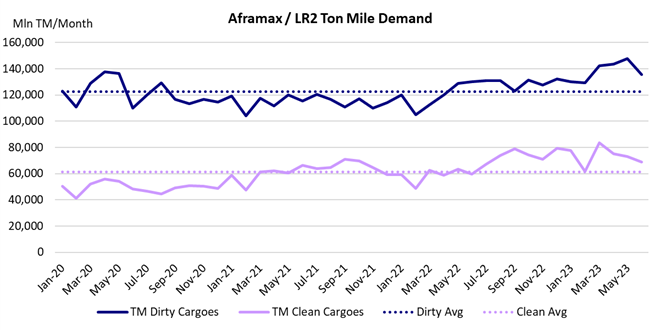 From Strength To Strength
July 24th 2023
Bullish medium-term outlook for Aframax and LR2 tankers
Aframax tankers have been one of the key beneficiaries of the conflict in Ukraine. Western sanctions on Russia closed off many of the short-haul destinations for Russian crude oil and refined product exports. This has increased the average distance over which Russian oil needs to be transported. Because of the size restrictions of Russia's ports in the Baltic, Black Sea as well as the Russian Far East, charterers continued to use Aframax and Suezmax tankers, despite the longer distances involved.
The need to move refined products over longer distances (from Russia and to Europe) has also boosted LR2 (clean Aframax) employment. As a result, Aframaxes (both clean and dirty) have been one of the best performers in the tanker market since February 2022. The question we will try to address in this Tanker Opinion is whether the strong performance of the Aframaxes/LR2s will last and for how long?
Please fill below form to continue read.