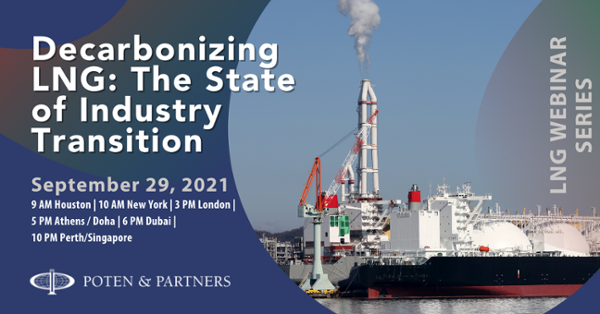 On-Demand Webinar: Decarbonizing LNG: The State of Industry Transition | Sept. 29
Net-zero greenhouse gas emissions have become the common long-term goal of most LNG industry players since the first carbon-offset LNG cargoes were traded in 2019. The industry approach towards emissions in LNG supply has gone from single-cargo transactions to making long-term investments in emissions management solutions such as carbon capture and storage and renewable electricity supply. LNG buyers must look for sellers that have the best carbon emissions management as their governments commit to net-zero targets.
Join Poten's panel of LNG analysts for a webinar on September 29 as we discuss decarbonization efforts in the LNG industry and the road ahead.
Topics to be discussed include: • Recent carbon-neutral transactions • Net-zero strategies of LNG producers and impact on their LNG projects • Net-zero strategies of LNG buyers and changes to their procurement • Are record high EU carbon prices decarbonizing the power grid?
Presented by: 
• (Moderator) Jason Feer, 
Global Head of Business Intelligence
• Sophie Tan, 
Managing Editor of Business Intelligence
• Oleg Vukmanovic, 
Head of European LNG Business Intelligence
September 29, 2021
9 AM Houston | 10 AM New York | 3 PM London | 5 PM Athens / Doha | 6 PM Dubai | 10 PM Perth/Singapore