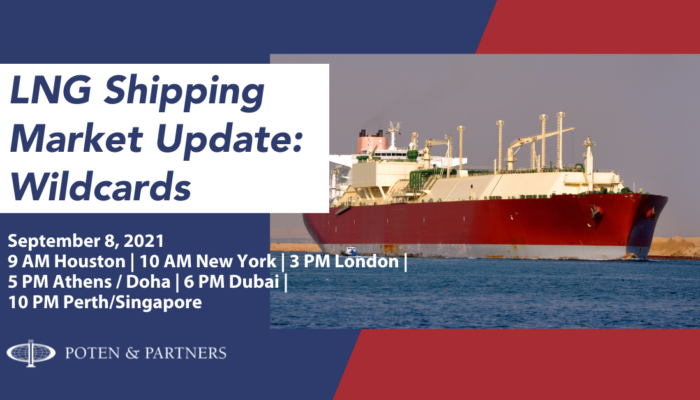 On-Demand Webinar: LNG Shipping Market Update: Wildcards | September 8
The LNG shipping started strong during the first half of 2021 with short-term fixtures dominating the market and pulling vessels out of the spot market. Much of the demand was a reaction to a colder than expected 2020/21 which left many charterers paying high sub-let rates or unable to lift cargo. In addition to the weather, there are multiple wildcards in the short-, medium, and long-term with the potential to dramatically impact shipping.
Topics to be addressed:
• Spot market shipping update: Why was the spot market so strong during the first half of 2021 and will this continue through the year?
• IMO Emissions Regulations: What impact can the EEXI / CII regulations have on the shipping fleet?
• Panama Canal congestion: Is uncertainty around the Panama Canal continuing to increase average voyage distance?
Presented by:

Jefferson Clarke
Head of LNG Shipping Analytics
Poten & Partners