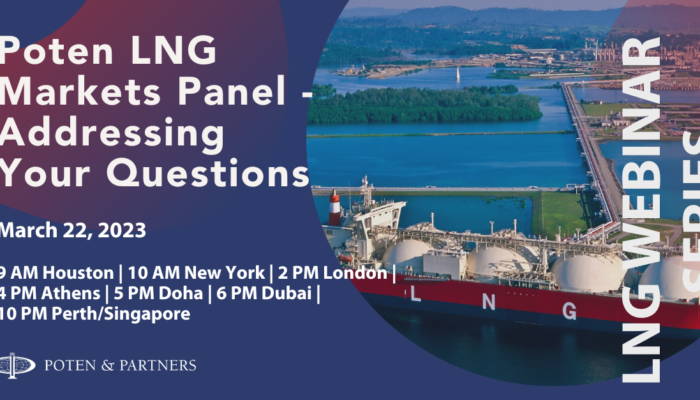 On Demand Webinar: Poten LNG Markets Panel – Addressing Your Questions | March 22
The LNG industry continues to adjust to significant global pressures affecting energy security, geopolitics and the energy transition. Recent developments include record-setting contract activity in 2022, Europe's increasing reliance on LNG to replace Russian pipeline gas, the rapid development of FSRUs in Europe and the significant progress made by key liquefaction projects toward FIDs.
Against this backdrop, Poten is looking to address topics of interest that our clients and industry friends may have about the rapidly shifting market and project development landscape.
Broadcasted on March 22 featuring a panel of Poten specialists answering questions submitted by previous attendees to Poten webinars.
Moderator: Jason Feer, Global Head of Business Intelligence
Panelists:
– Kit Wong, Head of Asia-Pacific Business Intelligence – Sergio Chapa, Senior LNG analyst, Americas – Piers de Wilde, Senior LNG analyst, Europe