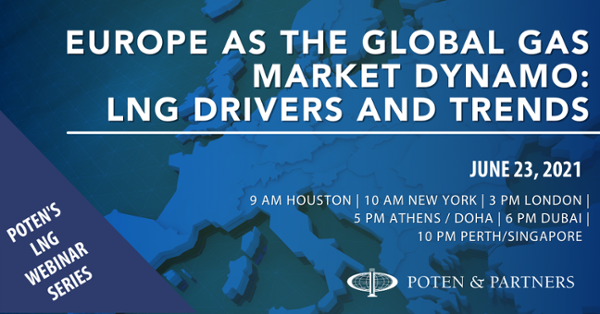 Webinar: Europe as the Global Gas Market Dynamo: LNG Drivers and Trends | June 23
After a winter of heavy storage withdrawals and supply outages, European gas markets exited the winter heating season on a high note after a grueling 2020 marked by record low prices. Far from fading away, the bullish tone has carried through into the summer, with rallying gas and carbon prices exerting greater influence over Asian spot LNG benchmarks. The region's rapid shift in gas fundamentals has set the ball rolling on a broader gas market rebalancing. Join Poten's LNG webinar series as we explore regional market dynamics in Europe on June 23 at 3 pm London.
Topics addressed include:
• European gas market in context: how TTF and carbon took over global pricing • The role of storage and Russian export strategy in re-shaping gas fundamentals • Outlook for summer and winter 2021/2022 fundamentals
STREAM NOW!
Presented by:
Oleg Vukmanovic
Head of European LNG Business Intelligence
STREAM NOW