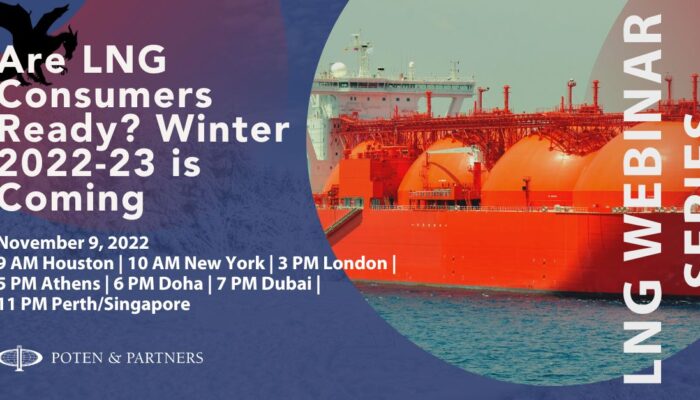 On-Demand Webinar: Are LNG Consumers Ready? Winter 2022-23 is Coming | November 9
With Russian flows into Europe hovering just above zero, the outlook for winter supply has never been more critical for European markets. Storage is in good shape, and prices have come down from their recent highs. However, one misplaced cold spell could stand between a well-covered market and a short one.
In Asia, total demand for LNG has been low, especially in China where the combination of demand destruction and alternate supply sources has left the market well-supplied. Cold weather there could spark Chinese LNG purchasing to make up for previously sold contract volumes, and a worst-case scenario of an extreme winter in both European and Asian markets could leave some demand sectors out in the cold.
Topics to be addressed include: • Demand potential in China due to winter and the end of Covid restrictions • Will European storage levels be adequate for winter heating requirements? • LNG projects and the outlook for incremental supply • What will markets look like if Asia and Europe experience harsh winter weather?
Tune into our next LNG webinar for an update on the latest market conditions, demand scenarios and US projects.
9 AM Houston | 10 AM New York | 3 PM London | 5 PM Athens | 6 PM Doha | 7 PM Dubai | 11 PM Perth/Singapore
Presented by: 

Kristen Holmquist Head of Data Poten & Partners