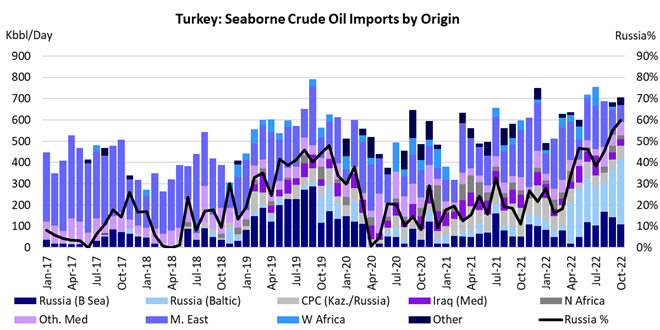 October 28, 2022
Increasing imports from Russian Baltic boost ton-mile demand
Since the Russian invasion of Ukraine and the sanctions that followed, the primary emphasis of the oil and tanker industry has been to try to answer to key questions. Firstly, who will buy the Russian oil that is not going to their traditional Western customers and, secondly, where will Europe source its crude (and products) from after it starts implementing the import ban in December of this year? With respect to the first question, the focus has been on two countries: China and India. Both countries are large oil importers and have refrained from publicly criticizing President Putin for his aggression.
China and India have continued to import Russian oil and, in the case of India, their imports have dramatically increased. A third country that has increased its imports from Russia but has received much less attention is Turkey. They have dramatically boosted imports of Russian crude oil since the invasion of Ukraine in February 2022. In this week's Tanker Opinion, we will review these developments in more detail and try to determine possible future scenarios.
To read the full opinion, please fill out the form.