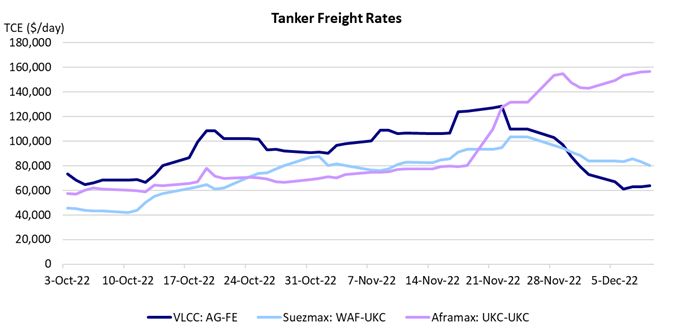 December 9, 2022
All eyes on Russia after EU import ban and G7 oil price cap
In the first week of the "new" oil and tanker market, after the EU seaborne import ban and the $60 oil price cap on Russian crude oil were implemented, it is difficult to draw many conclusions.  The biggest story has been the situation in Turkey, where new proof of insurance requirements have caused a gridlock in the Bosporus Straits.  With respect to the oil-price cap, China and India, the main buyers of Russian crude since the invasion, seem intent to ignore it.  Russia remains adamant that they rather cut production than sell under the price cap.  Under those circumstances, it seems that most of the international tanker fleet is off-limits for Russian exports, so they will have to rely on the dark fleet.
However, nobody knows how big this fleet is since the description of the dark fleet is not well defined.  All this has created a "wait-and-see" attitude in the tanker market.  After coming down significantly in the days prior to the implementation of the import ban and price cap, crude oil tanker rates have stabilized in recent days.
To read the full opinion, please fill out the form.