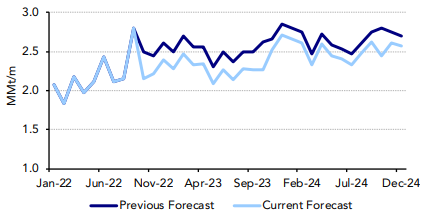 Chinese Imports Revised on Covid-19, Lower Petchem Demand
This current feature was extracted from the latest edition of Poten's LPG Market Outlook, a monthly service published on December 9th, 2022.
After hitting record levels in September 2022, Chinese LPG import data showed a decline of 23% to 2.2 MMt/m in October. Imports have averaged roughly 2.1 MMt/m in 2022. The average PDH unit operating rate in China rose from 60% at the end of September to 80% by mid-October.
Margins turned slightly positive in early September, but quickly turned negative by mid-October. Margins in December have moved further into negative territory despite lower propane prices. Several PDH units have opted to undergo maintenance and PDH demand is expected to slow in the next few months.
To read the full article, click here.