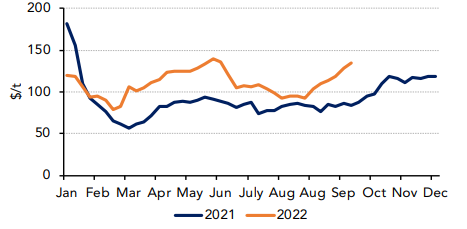 Prices Fall in September, Freights Up Sharply
This current feature was extracted from the latest edition of Poten's LPG in World Markets, a monthly service published on October 7, 2022.
Global LPG prices fell precipitously in September, eroding relative strength against crude amid lackluster demand from the petrochemical sector and rising production. However, spot VLGC freight rates rose to nearly three-month highs supported by tight vessel availability and spot chartering activity for October and early-November loading dates. Saudi Aramco cut the benchmark October propane contract price (CP) by 9% from the previous month to a 16-month low at $590/t.
October butane CP was slashed by 11% to $560/t. Saudi Aramco has been lowering the CP since April due to lower crude price and weak demand from the Asian petrochemical sector. Spot LPG supplies from the Middle East has increased so far this year as producers in the region have increased oil and gas production to meet demand.
Read the feature here.