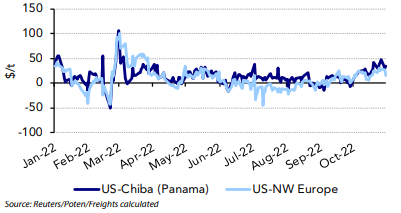 Freight Rates Remain Bullish
This current feature was extracted from the latest edition of Poten's LPG in World Markets, a monthly service published on November 7, 2022.
Global LPG prices have fallen further in US Arbitrage Economics October as mild October weather delayed the onset of peak heating demand, easing energy supply concerns amid ample supply from the US and the Middle East. Meanwhile, spot VLGC freight rates surged due to long Panama Canal waiting times, delays at some discharge ports, higher Australian exports and increased exports from the Middle East to Asia which tightened spot vessel availability.
To read the full article, click
here
.