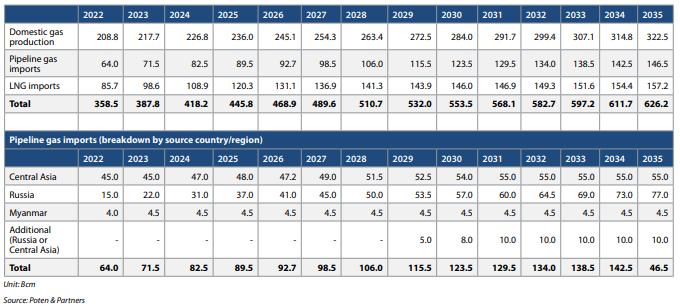 Chinese Near-Term Demand at a Crossroads
This current feature was extracted from the latest edition of Poten's LNG in World Markets, a monthly service published on January 31, 2023.
China's short-term LNG appetite – dampened by price-driven demand destruction, capped economic growth and increased use of alternative fuel sources for much of last year – could be poised for an upturn soon, as Chinese buyers ponder restocking after the Lunar New Year holidays amid global LNG price shifts and cold spells.
There are some expectations of an LNG demand uptick from 2Q 2023, particularly if global prices slump further, the domestic Covid-19 situation improves and global headwinds ease. These are, however, huge wildcards.
Poten forecasts that China will receive nearly 388 Bcm of gas from domestic production and LNG and pipeline imports in 2023. This is the equivalent of around 283 MMt of LNG and an 8.2% jump from 2022 levels. LNG imports alone are poised to jump by 15.1% on the year to nearly 99 Bcm (72.3 MMt) in 2023.
To read the full analysis, click here.