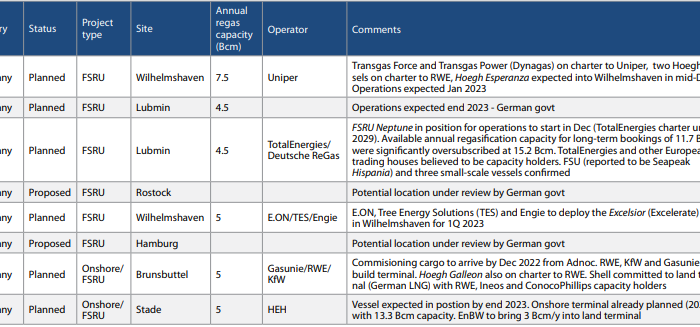 German FSRUs on Target for Winter Start
This current feature was extracted from the latest edition of Poten's LNG in World Markets, a monthly service published on December 2, 2022.
Two German government-backed projects in Brunsbuttel and Wilhelmshaven and a private-backed project in Lubmin are due to come online in the next few months. RWE is set to receive cargo in Germany from ADNOC in December, with Uniper's Wilhelmshaven project likely to be up and running in January. The cost to the government for constructing floating storage and regasification unit (FSRU) terminals is said to be €3 billion over budget.
RWE chartered two FSRUs from Hoegh LNG (with one being the Hoegh Esperanza and the other understood to be the Hoegh Galleon) on behalf of the German government earlier in the year, with Uniper chartering two Dynagas vessels (Transgas Force and Transgas Power). Excelerate will also provide a vessel to give five state-backed projects spread between the two ports, and more FSRUs will be deployed by projects at Stade and Lubmin (see Table).
Excelerate announced in late October that it signed a five-year contract with the German government for the charter of the Excelsior vessel, which will drydock at the end of the year in preparation for redeployment.
To read the full article, click here.