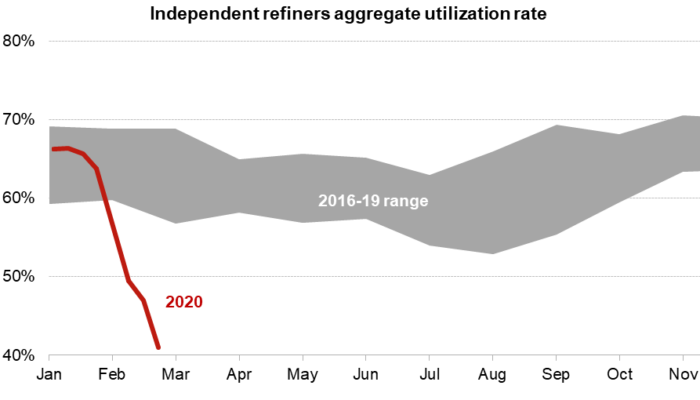 28 February 2020:
Where does the oil go if demand suddenly disappears?
In a short period of time, oil demand growth, initially in China, but increasingly also in other parts of the world, has started to falter.  The spreading of the coronavirus has significantly reduced global demand for transportation fuels, particularly in China, where the impact of the coronavirus has been the most severe. 
As a result of the travel restrictions instituted by the government, road travel was down 87%, rail travel was 83% lower and air travel reduced by 77% after the Lunar New Year break (all compared to the same period of 2019).  Refiners have responded by cutting back runs and advancing seasonal maintenance, both of which have a direct impact on crude oil demand. 
Now that the virus has spread to Europe, refiners there are also contemplating cutting runs.  As the world tries to come to terms with the implications of the virus, global economic activity is being affected.  In this rapidly developing situation, the oil and tanker markets are constantly playing catchup.  The oil that has been showing up at China's shores in recent weeks was bought several months ago and loaded on tankers in places like West Africa and the Middle East well before the coronavirus outbreak hit the news.
How is the tanker market coping with this constantly evolving situation?
Please fill out the form to read the article.