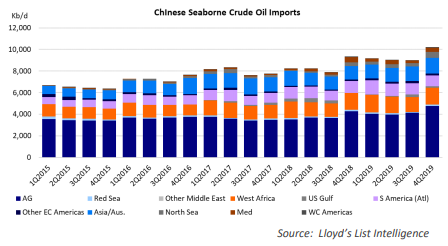 17 Jan 2020:
On Wednesday, January 15, the U.S. and China signed a "phase 1" trade deal, officially called the "Economic and Trade Agreement between the Government of the United States and the Government of the People's Republic of China". Under the terms of this deal, China commits to boosting purchases in manufacturing, services, agriculture and energy from 2017 levels by $200 Bn over two years. The agreed amounts for energy products are "no less than $18.5 billion" in calendar year 2020 and "no less than $33.9 billion" in 2021. Energy products include Liquified Natural Gas, Crude Oil, Refined Products and Coal.
It is also interesting to note that the agreement specifically states that "The Parties project that the trajectory of increases in the amounts of manufactured goods, agricultural goods, energy products, and services purchased and imported into China from the United States will continue in calendar years 2022 through 2025." It is clear that the U.S. government does not want this deal to just provide a short-term boost.
The agreement is meant to provide long-term stimulus to U.S. – China trade. So, how could this deal impact the crude oil and petroleum product trade flows?
Please fill out the form to read the article.