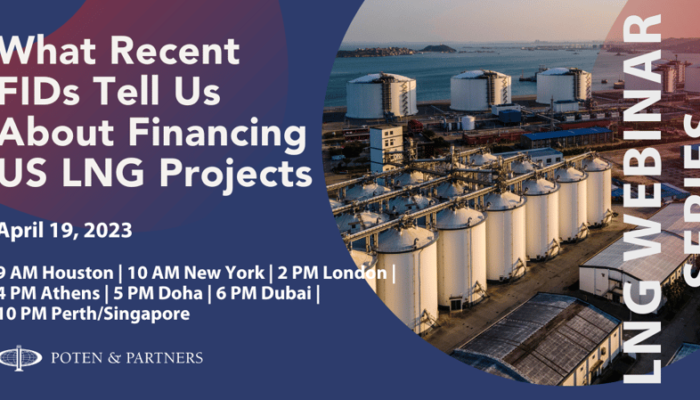 On-Demand Webinar: What Recent FIDs Tell Us About Financing US LNG Projects | April 19
In March two US LNG export projects obtained almost $15 billion in funding just as the collapse of Silicon Valley Bank and the emergency takeover of Credit Suisse by UBS sent shock waves across the banking sector. How did they manage it and what awaits the next projects? Join our upcoming webinar on April 19 for an update from Poten & Partners on LNG finance.
Topics to be addressed include:
•    How the traditional project finance model is shifting and the effect on new project developers
•    Will the increasing reluctance of European banks to lend to hydrocarbon projects affect LNG?
•    Is there enough capital available to fund import and export projects and the new ships and other infrastructure needed by the LNG industry?
April 19, 2023
9 AM Houston | 10 AM New York | 2 PM London |
4 PM Athens | 5 PM Doha | 6 PM Dubai |
10 PM Perth/Singapore
Presented by:

Melanie Lovatt,
Managing Editor,
Poten & Partners