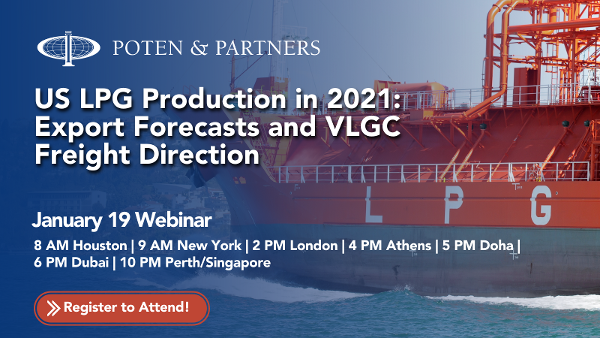 On-Demand Webinar | US LPG Production in 2021: Export Forecasts and VLGC Freight Direction | January 19
2020 was a roller coaster ride for the LPG market. The year started on a high note with expectations that both trade and shipping markets would remain robust. OPEC had plans to pump out more barrels but resorted to production cuts amid Covid 19. A real threat loomed for demand which only partly came to fruition, and with it emerged signs of the first-ever slowdown in US production and exports since the country became a net exporter. In the shipping market, the heated speculation on the impact of the much-hyped IMO 2020 sulphur regulations was soon forgotten, as a far bigger obstacle to freight levels was overcome and rates climbed above $100k per day in December.
Join our upcoming webinar
with Poten LPG Consultant Shantanu Bhushan, London LPG Desk Head Alex Cocavessis and LPG Shipbroker Peter Stebbing as we explore major developments in US LPG production and exports and present Poten's outlook for 2021 and how it may impact the shipping market.
Topics to be addressed:
• US production in 2020 and outlook for 2021 • Analysis of US-Asia and US-Europe arbitrage and what's in store for 2021 • How changes in US production affected exports in 2020 and how this appears to take shape in 2021 • US production impact on the VLGC shipping market
REGISTER NOW!
Presented by: • Shantanu Bhushan
, LPG Consultant
• Alex Cocavessis
, London LPG Desk Head
• Peter Stebbing
, LPG Shipbroker
January 19
8 AM Houston | 9 AM New York | 2 PM London | 4 PM Athens | 5 PM Doha | 6 PM Dubai | 10 PM Perth/Singapore