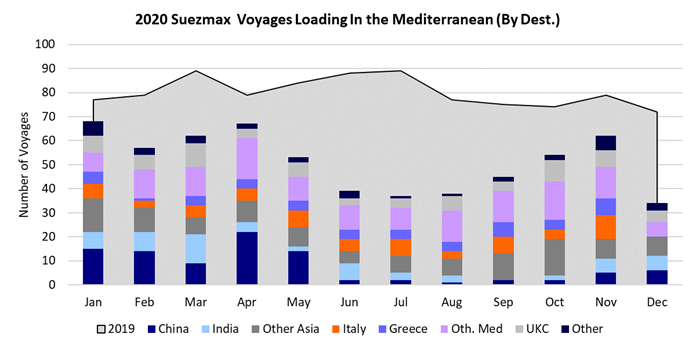 December 18, 2020
Why did Suezmax tankers do so poorly in the Mediterranean?
Historically, Suezmax tankers have had a strong presence in Mediterranean crude oil exports.  The "Med" has traditionally been a reliable source of employment for the medium-sized crude carriers.  According to Lloyd's List Intelligence APEX data, in 2019, the Med and the Middle East were neck and neck in terms of number of Suezmax export voyages per month, with the Middle East holding a slight edge (83 versus 80 voyages per month). 
The largest number of Suezmax voyages (117 per month in 2019) are happening on the Atlantic Coast of the Americas, primarily because of the large volume of Suezmax shuttle voyages off the coast of Brazil.  However, despite an increase of 14.2 voyages per month in Brazilian shuttle voyages from 2019 to 2020, the total number of monthly Suezmax voyages declined by 20 (4.7%) from 429 to 409.  This was mainly due to a significant decline in Suezmax employment in the Med in 2020. 
What happened?  Are there structural changes in the trade or are there temporary events that will no longer be a factor in 2021 and beyond?
To read the full article, please fill out the form.