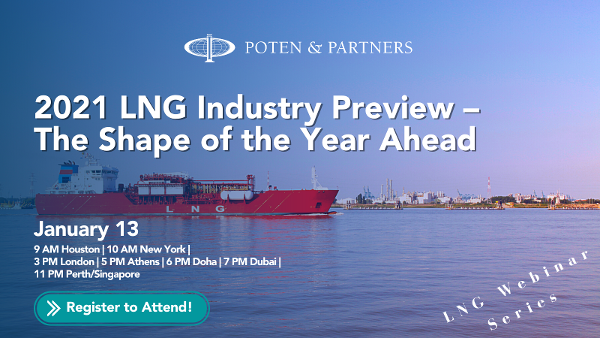 Webinar: 2021 LNG Industry Preview – The Shape of the Year Ahead | January 13
After the dramatic events in the 2020 LNG market, 2021 appears to be starting off with a bang. High JKM prices paint a stark contrast to the weakness experienced during the summer months. The sharp drop in European storage has shifted the market from one running out of capacity to one that will have to see a strong summer build to prepare for next winter. US exports are at all-time highs with a huge number of vessels heading to Asia, adding to delays at a congested Panama Canal and increasing ton-mile demand. Shipping deals are being discussed at about $200,000-day rates.
How will this flurry of activity at the start of the year pan out? Will the market again experience weakness as it did last summer? How does next winter look likely to pan out?

Join Business Intelligence Forecasting Manager Kristen Holmquist as we kick off Poten's LNG webinar series with our outlook for the LNG industry in 2021.

Topics to be addressed include:
• Where will LNG demand grow in 2021 and by how much?
• How long will the current LNG price environment last?
• How will LNG supply respond to seasonal demand changes?
• How low can European LNG storage go and what will it take to rebuild it?
• Will there be cancellations this summer?
Presented by:
Kristen Holmquist, Business Intelligence Forecasting Manager, Poten & Partners