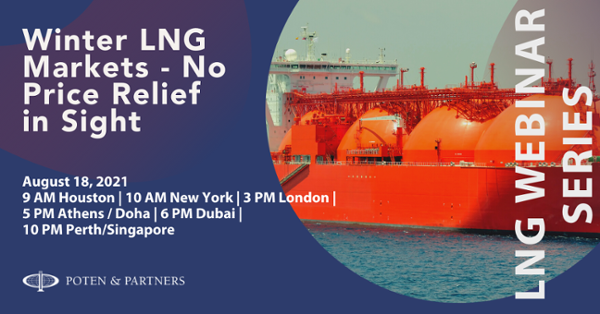 Webinar: Winter LNG Markets – No Price Relief in Sight | August 18
The spring and summer have seen uncharacteristically high prices with the global LNG market far tighter than expected. With attention now shifting to the autumn and winter heating season in the northern hemisphere, the question is whether there is any respite in sight. But given the low level of global inventories, especially in Europe, a decline in prices looks unlikely. Join Poten & Partners for a detailed look at some of the key factors that will shape the market for the rest of 2021 and into 2022.
Topics to be addressed:
• How low are European inventories and can they be refilled before the heating season starts?
• What are the expectations for LNG demand this winter?
• With most spot supply going to the Asia Pacific, will Europe be able to secure enough supply for the winter?
• Will a warm winter make a difference or are high prices a certainty?
Presented by: 

Kristen Holmquist
Business Intelligence Forecasting Manager
Poten & Partners
August 18, 2021