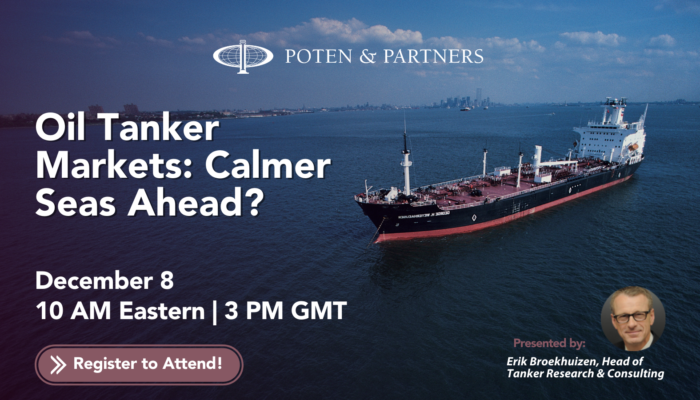 On-Demand Webinar: Oil Tanker Markets: Calmer Seas Ahead? | December 8
The tanker market has experienced unprecedented volatility in 2020. The global Covid-19 pandemic and the turmoil in the oil markets drove tanker rates to dizzying highs before collapsing down to earth. Covid-19 is far from over, but Asia is already recovering and several vaccines give hope for the future. What will this future look like? When will tanker rates start to recover? What about floating storage? Will a new U.S. administration have an impact?
Stream our webinar on-demand now as we share our latest viewpoints going into 2021.
Topics to be addressed: • Will the oil markets see a quick rebound or a slow recovery? • Where will a Biden administration be different from the Trump presidency? • The impact of scrapping on the tanker market in 2021 and beyond • Newbuilding choices. Does it make sense to order early or is it better to wait? • When will climate policies start to have an impact?

Presented by: Erik Broekhuizen, Head of Tanker Research & Consulting
STREAM NOW!