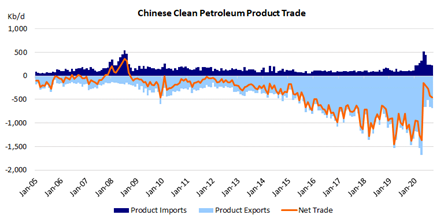 December 4, 2020
After the pandemic, China's dominance will continue to grow
Since the early 2000s, China has been powering the growth in global shipping demand due to its sheer size and rapid development. The tanker, dry cargo and container market all benefited from China's  need for transportation capacity. China was the driver behind the shipping super cycle of the early 2000's, which ended soon after the global financial crisis hit in 2008. However, even after China's expansion started to slow down, the growing size of their economy ensured that they remained the dominant force in the bulk shipping markets.
For many of the largest oil producers in the world, China is their largest export market. Most producers in the Middle East, Africa and the Americas (including the United States and Canada) have become highly dependent on China. In recent years, China has also become a factor in the refined product markets, both importing and exporting growing volumes of fuel oil, gasoline and diesel.
Going forward, we expect the role of China in the oil markets to grow even more as they continue to expand their economy at a much higher rate than the developed economies in Europe and North America. This means that China, which already dominates the crude oil tanker market, will also have a growing impact on the product tanker market in the years to come.
To read the full article, please fill out the form.