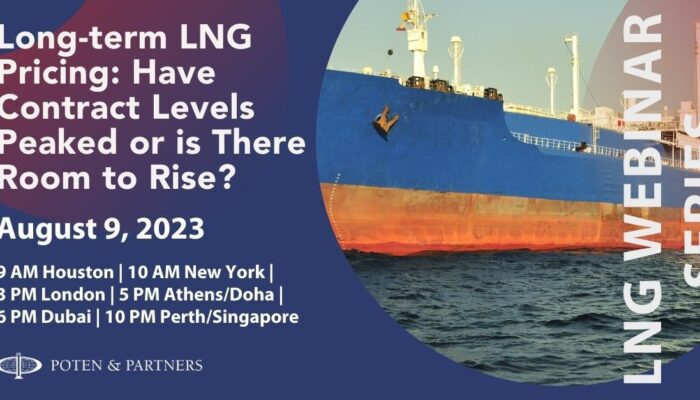 On Demand Webinar: Long-term LNG Pricing: Have Contract Levels Peaked or is There Room to Rise? | August 9
Long-term contract prices have been rising steadily over the past year, both in the United States and in other regions. Join Poten's Head of Business Intelligence Jason Feer on August 9 as we dive into the most current deals and examine where prices are now and where are they headed.
Topics addressed include:
– A survey of deals done during the first half of 2023
– Have LNG contract prices topped out or should we expect prices for long-term supply to keep rising?
– A comparison of Henry Hub and Brent pricing. Where do we see fast price inflation?
– Are we seeing new contract structures emerge as European buyers work to secure supply in the medium and long term?
Fill out the form to view the webinar on-demand at your convenience.
Wednesday, August 9, 2023
9 AM Houston | 10 AM New York | 3 PM London | 5 PM Athens/Doha | 6 PM Dubai | 10 PM Perth/Singapore
Presented by:

Jason Feer
Global Head of Business Intelligence
Poten & Partners