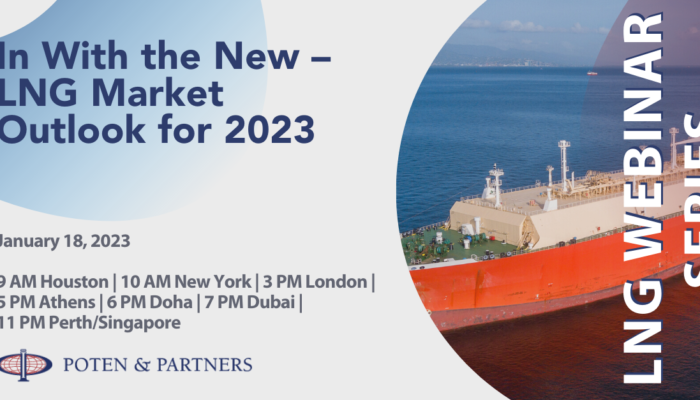 On-Demand Webinar: In With the New – LNG Market Outlook for 2023 | January 18
After a year of extreme price swings, fast-moving contracting trends for new projects, and changing demand patterns, the LNG market looks a lot different at the start of 2023 than it did a year ago. The global LNG market will continue to evolve in 2023 as it adjusts to some of the new norms following 2022's changes. In addition to this evolution, total supply growth is expected to be very slow, limiting the ability for demand to grow and increasing competition for existing production.
Join Kristen Holmquist, Poten's Head of Data Analytics as she reviews the outlook for 2023 and the challenges the LNG industry is expected to face.
Topics to be addressed include:
• How will Europe's storage levels look following the winter? How will this affect demand?
• Will Chinese demand recover after the easing of Covid-related restrictions?
• What will happen to demand in India if prices remain elevated?
• A review of supply trends and an assessment of the risks.
• How will demand in developing nations change in the competitive market?
January 18, 2023
5 PM Athens | 6 PM Doha | 7 PM Dubai | 11 PM Perth/Singapore Presented by:
Kristen Holmquist Head of Data Analytics Poten & Partners