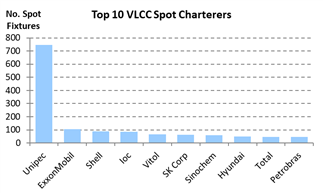 5 January 2023
Top Reported Dirty Spot Charterers for 2022*
Following a disappointing 2021, the tanker market started 2022 with sustained low freight levels.  However, the Russian invasion of Ukraine in February 2022 changed everything.  Western countries unleashed a barrage of sanctions on Russian companies and buying and/or shipping Russian oil became controversial.  This led to changes in chartering behaviour (an increase in off-market fixture activity) and a dramatic shift in global trade flows.  Some of this is reflected in our annual ranking of spot charterers.  Russia's Lukoil has dropped out of the Top 20.  The overall number of reported spot market fixtures in 2022 declined by almost 8% relative to 2021.
However, the picture was quite different for the various segments: VLCC – up 23%, Suezmax – down 15% and Aframax – down 22%.  The increase in VLCC fixtures was due to a significant increase in short-haul VLCC movements (e.g. USG-UKC), while we suspect that the drop in reported Aframax and Suezmax fixtures was related to the Russian sanctions (less intra-regional trade in the UKC and Mediterranean and more long-haul trips to Asia.  Overall cargo volumes and ton-miles were up across the board.
To read the full article, please fill out the form.