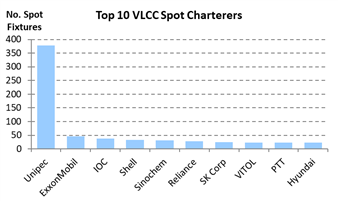 June 30, 2022
Top Reported Dirty Spot Charterers for 1H 2022*
As we are getting ready to celebrate Independence Day in the United States this weekend, it is time to publish our midterm report.  This year, the fixture counts appear to be influenced by two key events: (1) the global recovery from the Covid-19 pandemic and (2) the Russian invasion of Ukraine.  Compared to the first half of 2021, the number of reported VLCC fixtures increased 19%, but Suezmax and Aframax transactions were down 8% and 20% respectively.
The post-pandemic oil demand recovery helped the VLCCs, while the Western sanctions on Russia likely reduced the number of reported spot fixtures for the smaller crude oil tankers.
To read the full opinion, please fill out the form.