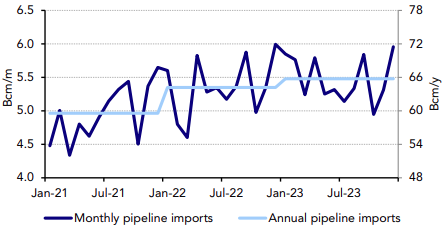 LNG being replaced by other sources in China
This current feature was extracted from the latest edition of Poten's LNG Market Outlook, a monthly service published on May 27, 2022.
LNG imports for China are down 21% from January to May of this year compared to last year over the same period. Higher pipeline imports, higher domestic natural gas production, higher coal consumption and production, and high LNG prices and a slowing economy are all contributing to the decline. Coal consumption in the power sector from January through April is up 25% compared to the same time frame in 2020 while coal production is up about 12% compared to last year.
Power producers with both gas-fired and coal-fired generation are maximizing the coal portion. The switch to coal makes economic sense due to high natural gas import prices and lower domestic coal prices. Coal prices are lower because of price caps for thermal coal and higher domestic coal production.
To read the full article, click here.