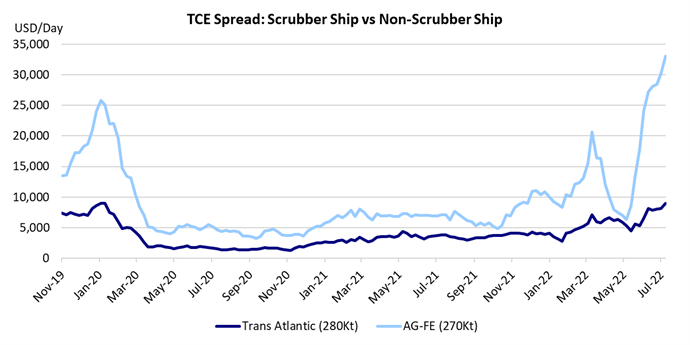 Scrubbers Are Delivering Profits
July 8, 2022
The Delayed Impact Of IMO 2020
In late 2019, during the runup towards the implementation of IMO 2020, there was a genuine concern that there may not be enough Very Low Sulphur Fuel Oil (VLSFO) available for the global shipping fleet, and the price spread between 0.5% sulphur VLSFO and 3.5% sulphur HFO (the "Hi-5 spread") increased to well above $300 per MT in important bunker ports like Fujairah and Singapore.  When 2020 came around, these fears proved to be unfounded.  There was enough low sulphur bunker fuel available, and the Hi-5 spread rapidly declined.
Starting early in 2022 the Hi-5 spread increased again, driven by a combination of factors, including the Russian invasion of Ukraine, and the general recovery of oil demand as the world is coming out of the pandemic.  Global refining capacity is tight, and the crack spread is very high.  This has created a significant gap in the earnings between vessels that need to burn VLSFO and those that can use HFO.
To read the full opinion, please fill out the form.