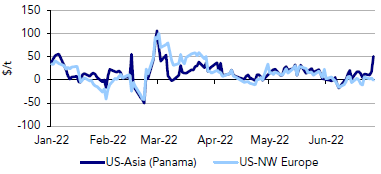 US Inventories Dip Below Last Year
This current feature was extracted from the latest edition of Poten's LPG in World Markets, a monthly service published on July 8, 2022.
The US propane inventory build was 52% lower during the four weeks ending June 24 from the same time in 2021 amid higher exports. Total storage at the end of June was 54 million barrels or 4.35 MMt, 6% lower than a year ago and 18% below the five-year average for the same week, according to the US Energy Information Administration (EIA).
Ship tracking data shows a record 4.8 MMt LPG was loaded from the US export terminals in June. Of that total, roughly 50-60% is heading to Asia with most of the volumes arriving in July. US exports to Northwest Europe were at an all-time high of about 600,000 t in June, according to ship-tracking data.
To read the full article, click here.