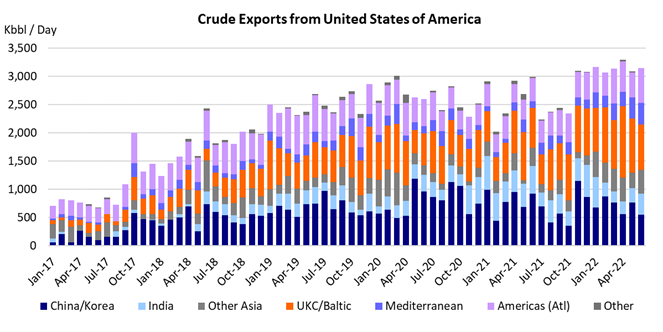 SPR Releases Turbocharge U.S. Crude Exports
July 15, 2022
Increasing flows from US Gulf will boost tanker demand
Following the Russian invasion of Ukraine in February 2022, the United States has started to release crude oil from its Strategic Petroleum Reserve (SPR) to address the significant global supply disruptions that resulted from the conflict and related sanctions.  The volumes that are being released are unprecedented.  The Biden administration sold an initial 30 million barrels in March.  This was part of a coordinated action with other member countries of the IEA to release a total of 60 million barrels from global reserves.
This initial release was followed by the announcement on March 31 of an additional 180-million-barrel release.  This second "emergency drawdown" is spread over six months (May – October 2022), averaging 1 million barrels per day (Mb/d).  According to the Department of Energy, this extended release period is meant to "provide supply certainty and act as a bridge until domestic production increases."  According to the latest Short-Term Energy Outlook of the EIA (released July 12), domestic U.S. production is expected to increase by 600,000 b/d between Q2 and Q4 of 2022.
Where is all this additional crude going?  Does it stay in the U.S. or is (part of) it being exported.  Does that matter?  And what is the impact on the tanker market of all this extra shipping demand?
To read the full article, please fill out the form.