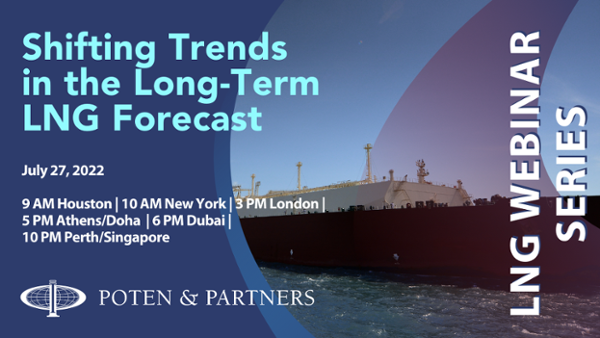 On-Demand Webinar: Shifting Trends in the Long-Term LNG Forecast | July 27
Russia's invasion of Ukraine has caused a shift in the way European countries are thinking about energy security. Sanctions on Russian projects are looking more and more likely to delay them. US projects are signing SPAs and HOAs at an unprecedented pace. To reflect these changes, Poten's long-term supply/demand forecast has shifted. Global LNG demand is now forecast to be nearly 550 MMt in 2032. Look for highlights from Poten's latest Global LNG Outlook and LNG Contract Intelligence Service in the next webinar in our monthly series.
• How will US supply grow in the medium- to long-term?
• When are Russian projects expected to startup?
• Will delays in Mozambique affect the outlook for the country?
• Has China's outlook shifted due to the slowdown in short-term buying?
• What does growth in India and Pakistan look like in the coming years?