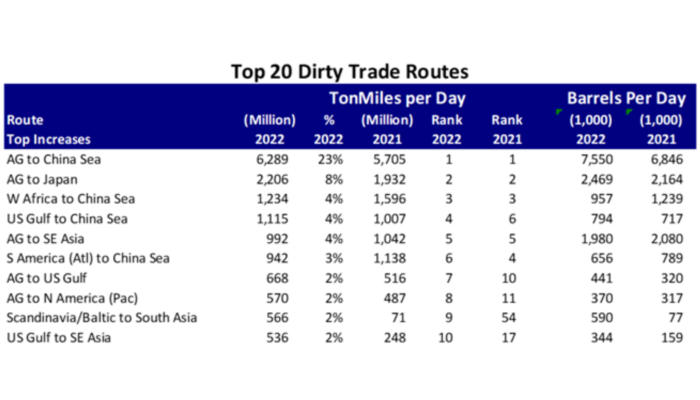 The Only Constant is Change
3 February 2023
Global dirty trade routes-reshuffle again in 2022
This is our third edition of Poten's ranking of the Top 20 Global Dirty Trade Routes (covering both crude oil and dirty products). The last two editions (2020 and 2021) showed significant changes in various trade routes and this year is no different.
While the global Covid-19 pandemic was the main driver of the changes in 2020 and 2021, the Russian invasion of Ukraine was the catalyst of many of the changes last year. Another difference was the direction of the change. In 2020 and 2021, total ton-miles declined (by 5.5% and 4.5% respectively), but in 2022, global ton-mile demand for crude oil and dirty products increased by 5.7%.
This growth was also reflected in the tanker freight market, which showed a strong recovery. However, the increase in ton-mile demand in 2022 was not across the board. As the tables on this page clearly illustrate, there were clear winners and losers within the main trade routes. In today's Tanker Opinion, we will discuss a few of the most dramatic changes.
To read the full article, please fill out the form.