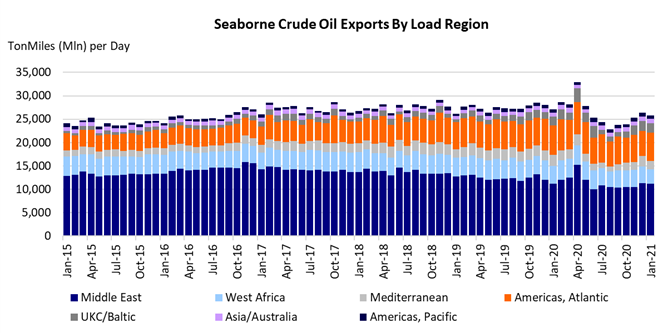 February 26, 2021
Is the tanker market primed for a turnaround in rates?
The tanker market has started the year 2021 with historically low rates. After reaching multi-year highs in the second quarter of last year, freight rates collapsed in the summer as the Covid-19 pandemic continued to spread and OPEC+ cut oil supply in response to the dramatic drop in global oil demand. The outlook for oil demand has brightened in the face of several vaccines that are being administered worldwide and oil prices have recovered strongly as a result. The first vaccines were announced in the second week of November 2020 when oil prices (Brent) were around $39/barrel.
On Wednesday, February 17 (three months later), Brent crude prices reached $65/barrel, an increase of 67%. The vaccines were not the only catalyst for this price increase. The continued production discipline from the OPEC+ countries (as well as the 1 million b/d bonus cut by Saudi Arabia) has also been a major contributor to the surge in oil prices. These ongoing production cuts are the main reason that the oil demand optimism has not trickled down to tanker rates.
However, with oil prices rising and the pandemic receding, it is likely that OPEC+ will decide to raise exports when they "meet" (via videoconference) on March 4, 2021. Will this be the time that tanker rates will also start their recovery?
To read the full article, please fill out the form.