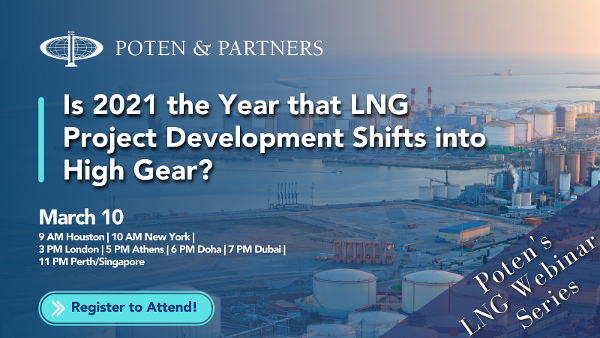 Webinar: Is 2021 the Year that LNG Project Development Shifts into High Gear? | March 10
The past several years have seen repeated delays in LNG project development as questions about demand, disruptions caused by the Covid-19 pandemic and reluctance by buyers to make long-term commitments have hindered progress. With more FIDs appearing imminent, including in Australia, could 2021 be the year when things change? With Qatar already greenlighting its 32 MMt/y North Field expansion and sponsors of projects hoping to sanction nearly 140 MMt/y of capacity in 2021 alone, the industry could see a record-breaking year in terms of FIDs. Stream our webinar now as we consider the outlook for new liquefaction projects as higher oil prices and expectations for strong economic growth change the dynamics for project development.
ON DEMAND NOW!
Topics addressed include: • Does the outlook for demand support new capacity development? • Are US LNG projects competitive in the current environment? • Are contract prices on the rebound as confidence returns? • What impact will environmental concerns have on investments in LNG?
Panelists include:
Sophie Tan
, Head of Asia Pacific Business Intelligence