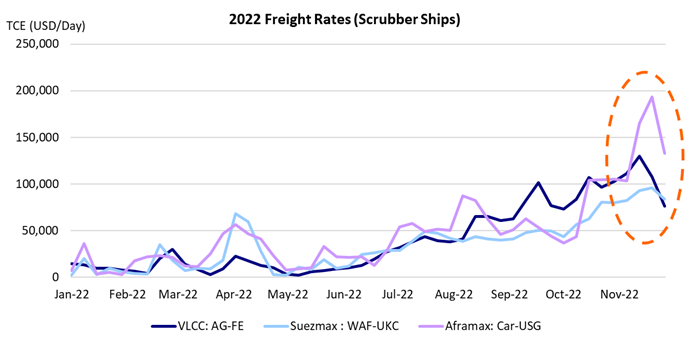 December 2, 2022
The oil and tanker markets remain volatile and unpredictable
As we are approaching the December 5 deadline, the oil and tanker markets continue to be both volatile and unpredictable.  At the time of writing, the EU seems to have agreed a $60/barrel oil price cap for Russian oil.  Some EU countries, such as Poland, which thought that price was too high and did not punish Russian oil revenues enough, have dropped their opposition.  The implication of this agreement is not immediately clear.  Currently, Russia is selling its oil well below these levels.  Earlier this week, Urals out of Primorsk were sold below $50/barrel.
At the moment therefore, the implementation of a $60/barrel price cap may have no impact on Russia's oil revenues.  It could look like business as usual, with the exception that Russian oil will no longer be sold to EU countries.  While Russia has always said that it will not sell to countries that are participating in the price cap, the pragmatic approach for the Kremlin will be to cooperate as long as the price cap is above the market price (for Russian grades).  There have been rumors that the Russian stance is changing, since they do not want to shut in production.
If they collaborate, the Russians will be able to continue to use the international tanker fleet and EU maritime services, including insurance.  Not surprisingly, the uncertainty around the timing and the level of the oil price cap created significant volatility in the tanker markets.
To read the full article, please fill out the form.