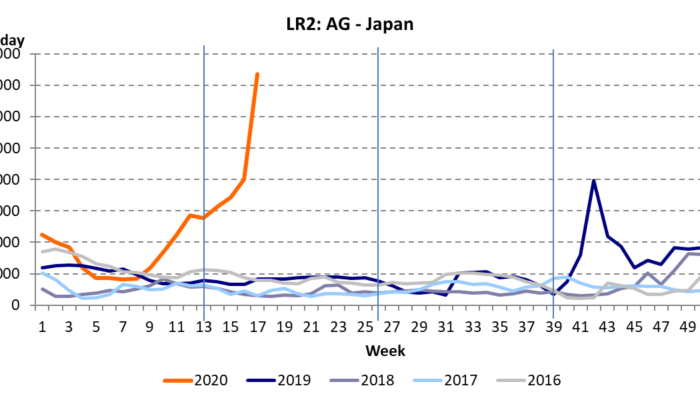 Product Tanker Rates Take Off
24 April 2020
Floating storage is tightening product tanker availability
Rates for product tankers have been rising since early March, both for the smaller MR's as well as the larger LR1 and LR2 tankers.  While this seems slightly counterintuitive, it coincided with a steep drop-off in refined product demand.  As a result of Covid-19, which caused lockdowns in large parts of the global economy, demand for jet fuel, gasoline and, to a lesser extent, diesel has dropped precipitously.  
So, it was not an increase in trading volume that caused markets to rise.  Logistical bottlenecks, trading inefficiencies, port congestions, in addition to contango trades, were all factors that contributed to market tightening.  In recent days, product tanker rates have increased almost exponentially.  This was most likely due to a rapid increase in floating storage, which is limiting the availability of vessels on the spot market. 
This week, we have observed rates on various trade routes that we have never seen before.  Records are being broken and there is no end in sight.
Please fill out the form to access the article.