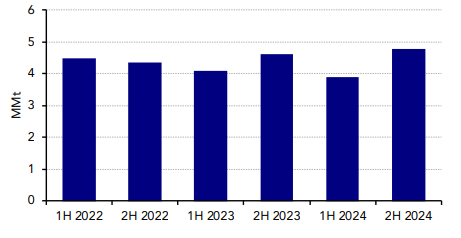 South Korean Imports to rise in 2H 2023
This current feature was extracted from the latest edition of Poten's LPG Market Outlook, a monthly service published on May 12th, 2023.
South Korea's LPG imports are forecast to decline in 1H 2023 to 4.1 MMt from 4.4 MMt in 2H 2022 and 4.5 MMt in 1H 2022. Imports in 2022 reached a record of 8.9 MMt on higher demand for LPG to spike natural gas amid high LNG prices and higher petrochemical demand. However, a mild winter and poor petrochemical economics negatively impacted demand in 4Q 2022 and 1Q 2023.
LNG prices have declined and natural gas inventory levels in South Korea are well above the average for this time of the year which will mean less of an incentive to increase LPG imports for spiking in 2023. Petrochemical economics have changed to favor LPG over naphtha, but operators have not increased run rates yet.
Higher LPG demand in 2H 2023 from the petrochemical sector is forecast to lift imports to 4.6 MMt in 2H. LPG imports are forecast to be 8.7 MMt in 2023 and 2024.
To read the full article, please click here.