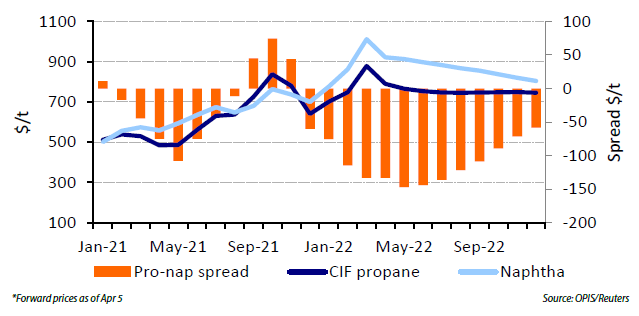 Wide Pro-Nap Spreads Driving Northwest Europe Imports
April 2022
LPG in World Markets
The average March CIF Northwest Europe propane price increased about 18% in March following the Russian invasion of Ukraine. However, interest for LPG cracking among mixed-feed crackers is growing due to favorable propane-naphtha spreads. Generally, propane is a preferred cracker feedstock when its price is over $50/t less than naphtha. The spread has been favorable since December 2021 when the average Northwest Europe CIF propane prices were $60/t lower than average spot naphtha prices.
The spread widened significantly following the Russia-Ukraine crisis as the sharp increase in crude oil prices and disruption of naphtha imports from Russia have boosted naphtha prices more than LPG. Russia is a major exporter of naphtha to the region.
To read the full article, click here.