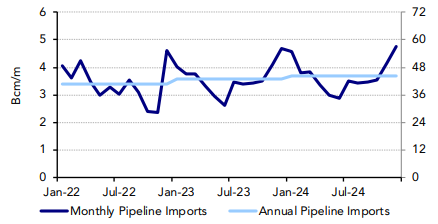 Turkish Imports Hit New Record
This current feature was extracted from the latest edition of Poten's LNG Market Outlook, a monthly service published on February 24, 2023.
LNG imports for Turkey surged in the last two months of 2022 and hit a record high in January 2023 at 2.13 MMt. This is a reversal of the trend seen in most of 2022. LNG imports for Turkey plunged to just 2 MMt in 2Q and 3Q 2022 combined, down from 5.6 MMt in 1Q 2022 on high LNG prices. Due to this recent resurgence in LNG imports, the forecast has been amended higher for 2023 and 2024.
Rather than a decline in 2023 to 10.5 MMt from 11.2 MMt in 2022, imports are forecast to grow to 11.6 MMt in 2023 and remain around that level in 2024.
To read the full analysis, click here.