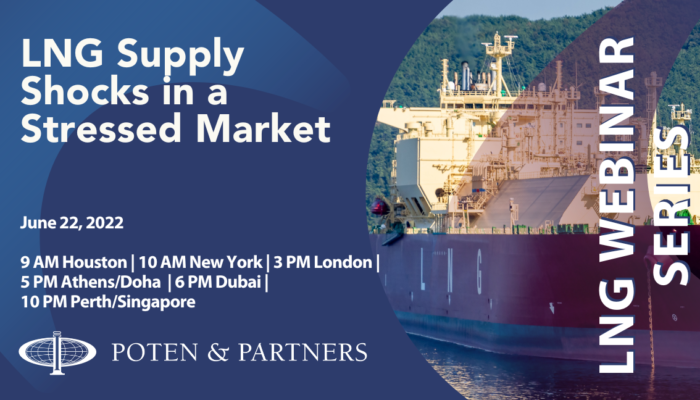 On-Demand Webinar: LNG Supply Shocks in a Stressed Market | June 22
The Freeport explosion and ongoing Ukraine crisis continue to create turmoil in global LNG markets. With Freeport operations unlikely to return to normal before late 2022, the loss of critical supply for Europe is creating even more uncertainty. As Finland and Germany look to start new FSRUs by winter, where will the gas supply come from? Meanwhile, uncertainty remains around the Asian market as China's lockdowns and high levels of storage sap short-term demand even as winter is sure to boost consumption. Japan and Korea have returned to the market with LNG tenders, but their buying interest remains tentative. In parallel with near-term volatility, long-term SPAs continue to be signed while Qatar is awarding trains to equity players and US contracts remain extremely active.
Stream now Poten's LNG webinar as we put together the big picture and discuss the latest dynamics at an unprecedented time in LNG.
Topics addressed include:
• What will the impact of the Freeport outage be on the global market?
• The timing of Asia's return to the market and the impact on pricing and supply availability
• Where will Europe source supply when Asia returns to the market?
• Where will the new FSRUs source supply?
• Update on progress of contracting for Qatar and US projects
June 22, 2022
9 AM Houston | 10 AM New York | 3 PM London |
5 PM Athens/Doha  | 6 PM Dubai |
10 PM Perth/Singapore
Moderated by: 

Jason Feer, Global Head of Business Intelligence, Poten & Partners
Panelists:
– Kristen Holmquist, Head of Data Analytics
– Piers de Wilde, Senior Analyst European Business Intelligence
– Kit Ling Wong, Head of Asia-Pacific Business Intelligence