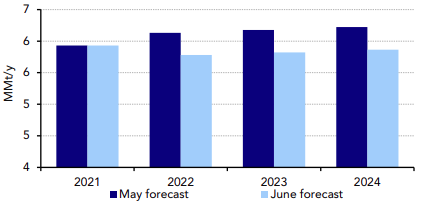 Norway's LPG production declines to limit exports
This current feature was extracted from the latest edition of Poten's LPG Market Outlook, a monthly service published on June 15th, 2022.
Norwegian LPG exports were previously forecast to rise between 5%-10% year-on-year for 2022 due to lower maintenance and higher output. However, production and exports through 1Q 2022 have not met those expectations, and the export and production forecasts have been lowered. Compared to 1Q 2021, exports in 1Q 2022 were down 14% at 1 MMt. Producers in Norway are choosing to leave LPG in the natural gas stream to maximize the BTU content due to high natural gas prices.
LPG provides a higher BTU content than natural gas, so producers can obtain higher prices by not processing the natural gas. Natural gas prices in Europe are not expected to come down in the near term which means that Norway is unlikely to increase LPG exports this year.
To read the full article, click here.