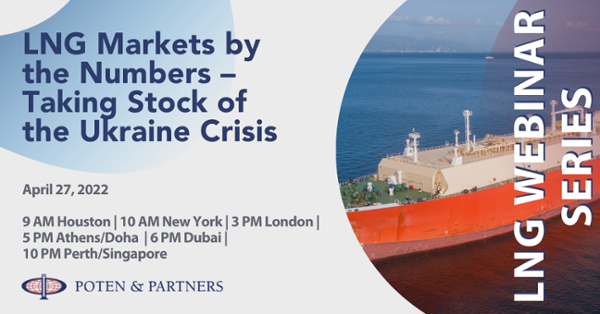 On-Demand Webinar: LNG Markets by the Numbers – Taking Stock of the Ukraine Crisis | April 27
Since the Russian invasion of Ukraine, there has been a flood of analysis, prognostication and punditry on the energy markets. However, the actual shifts in the LNG markets have been more subtle and without the grand sweeping changes many are calling for. This webinar will examine the data behind today's markets and assess how behavior has started to change. In addition, we will analyze the potential impact on global markets should some of these sweeping changes take effect.
Topics to be discussed include:
• How have flows of natural gas out of Russia changed since the invasion of Ukraine?
• Have trade flows between countries shifted as a result?
• What is the impact of the shift in arbitrage economics and changes in pricing on spot deals?
• Are buyers more willing to take long-term contract deals? How is this affecting pricing?
• How is the rest of the year likely to shape up?
9 AM Houston | 10 AM New York | 3 PM London |
5 PM Athens/Doha  | 6 PM Dubai |
10 PM Perth/Singapore
Presented by:
– Kristen Holmquist, Head of Data Analytics, Poten & Partners
– Jon McDonald, Senior Market Analyst, Poten & Partners