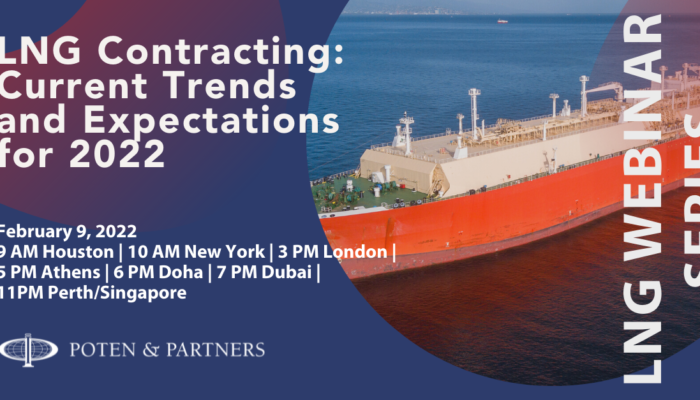 On-Demand Webinar: LNG Contracting: Current Trends and Expectations for 2022 | February 9
In 2021, a record 50 MMt/y of SPAs were signed, supporting the development of new liquefaction capacity as well as expansions. Contracts of all lengths were popular, with nearly 8 MMt/y of SPAs for five years or less, and 25 MMt/y of contracts for 15 years or longer, signed. This surge in activity was spurred in part by a very tight global LNG market, with JKM and TTF prices setting record levels. Amidst the market volatility, we saw a shift in pricing, with Henry Hub-linked contracts seeing a resurgence. Even with the increased contract activity, few FIDs were made although some projects are getting close and are expected to go to FID in 2022.
Stream now Jason Feer, Poten's Global Head of Business Intelligence as he analyzes a record year of contracts and looks ahead to trends expected in 2022 in the February installment of our LNG Webinar Series.
• Are there changes ahead in pricing and other terms for long-term supply?
• Which countries are providing the long-term demand the industry needs to develop new capacity?
• Which projects were most active in signing contracts and does that bring them closer to FID?
9 AM Houston | 10 AM New York | 3 PM London |
5 PM Athens | 6 PM Doha  | 7 PM Dubai |
11 PM Perth/Singapore
Speaker:

Jason Feer
Global Head of Business Intelligence 
Poten & Partners